These suggestions come up here and there and thought I'd make a mockup of what it could look like...
It would be handy to be able to browse by subcategory (via assignments and tags given in the shop and perhaps user definable). I'm not sure what is defined on the VST level as far as subcategories, so I'm not sure what would be necessary to accommodate that. Also, to be able to select and deselect which plugin formats show in the Browser would be nice.
This example shows a couple buttons for selecting whether RE or VST or both are shown. It uses available space. I assume Reason devices would show all the time and are displayed at the top of each list anyways which are collapsable. But I guess a button could be given to them as well.
It adds the ability to show all subcategories and to hide. And you could of course still browse by the main category. The subcategories shown for Effects in the mockup is just as an example. Of course there can be more categories like chorus, phaser, or just 'modulated.' Also, 'compression' would have been more appropriate and consistent. But it's just an example.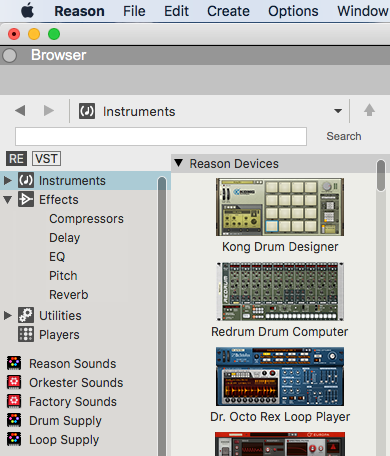 I've been using favorite lists, but it's a bit tedious. There is no management of favorites grouping and thus, no collapsing of favorites groups, so it can be lots of scrolling. So it would be great to be able to create Favorites groups.
All favorites icons are the same. It would be nice to at least be able to choose from the icons given to instruments, effects, etc. Perhaps adding more flexibility to how favorites can be created and organized helps to alleviate the need for the other ways to browse. Or might be great to have both. At the very least, I think the RE and VST buttons are very feasible and useful.
Thoughts?